The raw African Black Soap originates from West Africa; it has been used for centuries; with excellent results. Some brands may contain Shea Butter, Aloe Vera, and Oat. It does not contain chemicals, artificial fragrance, and preservatives. The Black Soap can be used by newborns and adults alike, for smooth skin, balancing and soothing feel. Local names of the African Black Soap are Ose Dudu, Alata samina, and Anago Samina.
The myth about its origin; the origin of the African Black Soap has been traced to the Yoruba, the Yoruba speaking tribe are mostly found in south-west Nigeria, and part of Benin Republic. Due to communal clashes and trade, they migrated to other West African Countries with the skills of black soap making. These locals have preserved the secret of skin beauty for centuries, with two distinct variety of black soap.
How the African Black Soap Works
Raw natural black soap relieves acne, hydrate the skin, clears skin problem and works well with dry and oily skin. To enjoy a wonderful bubble bath, the African black soap does the job well. You may either wet your hand or soap and rub on your face, body or hand to get the latter.
For babies; the African black soap clears baby diaper rash,

psoriasis

, skin rash, and skin diseases that have refused to clear.
For teenagers; it helps with acne,

psoriasis

, eczema and other skin blisters.
For Adults; Smoother skin, relieve acne,

eczema

,

psoriasis

, oily skin, and clear blemishes.

Cleanse, moisturize and comfort irritated skin while absorbing excess oil

Helps calm and clear blemishes of troubled skin
Ingredients of the African Black Soap
Pure Heritage African Black soap mostly comes from South Western Nigeria, Benin, Togo and Ghana. The ingredients include Palm Oil, Cocoa Pod, Palm Kennel Oil, Coconut Oil, Plantain Skin Ash, Purified Water, Natural Vitamin E, Natural Sodium. Depending on the composition of the ingredients and weight, the price varies.
There are various brands in the market; there is the raw African black soap, soap with fragrance, Aloe Vera, Oat, Shea butter and more. The additives are variations to suite different customer types and preference. The soap still performs its primary function that is, it takes care of skin disease, sensitive skins, all skin types, oily and dry skin.
Another variants Ingredients: African Black Soap Base, African Shea Butter (Certified Organic), Oats, Aloe, Plantain Extract, Vitamin E, Essential Oil Blend, Vegetable Glycerin, Palm Ash, Rosemary Extract, Iron Oxides
Things you need to know.
This depends on what you want to achieve, for example, raw African black soap does not have artificial fragrance. The ones without fragrance are more expensive than the ones with organic fragrance. This is because it is purely natural and does not have any chemical additives included.
The color of the soap is largely dependent on the method of production. It does not irritate the skin or makes it burn. Ingredients are from plant extract, water and sodium; it is a vegan-friendly product.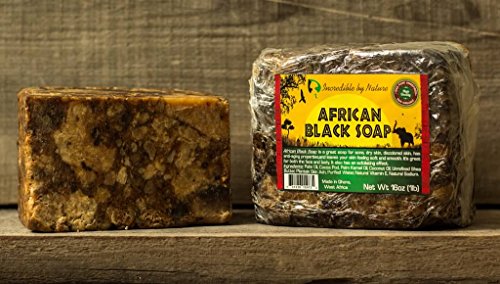 African Black Soap Review
One thing common with the users of the African Black Soap is the high level of satisfaction and result. This includes smooth skin glow, clearing of acne, eczema, rashes and psoriasis in a few weeks. The soap work for all skin types, however, some users may temporarily notice visible white scales on their skin. This is as a result of drying or clearing of the skin condition or disease.
African black soap with too many additives to make it black may leave residues in the bath tube. And not all black soaps have fragrances, 100% raw black soap does not have artificial fragrance. Though some come with natural fragrance as additives.
It is sometimes hard to find in stores, it better you buy in bulk. And yes do not let the name African Black Soap scare you, with the ingredients it can be made in any country or continent.
Black Soaps to avoid
Avoid dyed or charcoal filled soap.
There are some black soaps with an inconsequential active ingredient.
Recommended Products in Store: